Wallpaper Exterior Plant prints
€165.00
Tax included
(€165.00 m²)
This Outdoor Vegetal Prints wallpaper, like a cloud of leaves in the wind, will dress your walls with style
Outdoor wallpapers allow you to personalize the walls and facades of buildings and houses. Thanks to the latest printing technologies and innovative supports, it is now possible to decorate exterior walls with a high quality adhesive coating that can be applied to all supports (plaster, brick, painted wood, aluminum panels...)
PVC-free decorative film for exterior use with a matte finish (glossy on request) - Four color printing with solvent-free latex inks
Conformable polymer film with a durability of up to 12 years outdoors (7/8 years for colors).
All the models of our collections can be realized in Outdoor wallpaper
1/ Indicate your dimensions in the personalization section and save
2/ Calculate and indicate your quantity (Quantity: 5 = 5 m² - minimum 5 m²)
3/ Validate your order
4/ We will send you a proof of concept within 48 hours
5/ Delivery of your films in the formats under 10 days
Attention, the installation of these films must be carried out by an applicator. If needed, we offer the installation of this product throughout Europe (on estimate).
To create a professional account (Professional rates), a price request (supply and/or installation throughout Europe), contact us
Discover our achievements on our website ACTE-DECO PRO
Product customization
Don't forget to save your customization to be able to add to cart
Outdoor wallpapers, the walls take on colors
Exterior wallpapers allow you to personalize the walls and facades of buildings and homes. Thanks to the latest printing technologies and innovative supports, it is now possible to decorate exterior walls with a high quality adhesive coating that can be applied to any surface
There are no limits to the personalization of exteriors. You can express all your creativity for your future projects.
A revolutionary and ecological support
Combining high technology and sustainable development, our 3M Envision substrate is the first non-PVC conformable film (50 micron polymer film) for indoor and outdoor wall cladding. Moreover, this substrate is PVC-free and has a glossy or satin finish.
An ultra-versatile coating to cover all surfaces
No surface is left untouched, 3M Envision allows you to decorate easily and quickly all rough surfaces such as brick, stucco, plaster and cinder block..
An extremely durable decoration
This substrate is not a simple vinyl film, 3M Envision film is resistant to UV, high temperatures, discoloration, humidity and even acid for all applications. It offers excellent durability for up to 12 years depending on the surface and exposure. It is also easy to remove without leaving any traces or residues.
A more ecological support
Non-PVC

Phthalate-free

Partly made of bio materials*

Made with 58% less solvent than PVC

Made without chlorine or halogens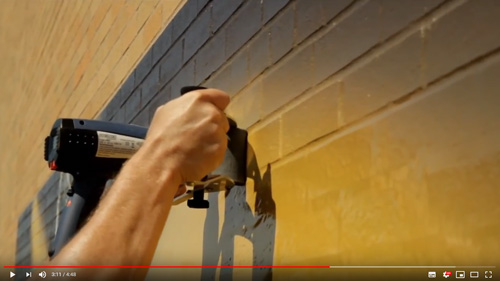 No customer reviews for the moment.
Contact us
Monday to Friday from 9am to 5.30pm

Worldwide delivery
Delivery time of 4 to 6 days

Green Deco
Our environmental approach

Made in France
Our products are manufactured in our factories in France